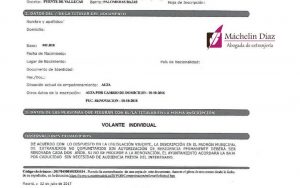 What is Empadronamiento and do I need one to get my NIE Number in Spain?
Very few regions of Spain ask for your Empadronamiento as proof that you live in Spain to obtain your NIE Number. If you are confused please ask one of our staff.
An Empadronamiento (also called Padrón), which is a similar activity to signing on the electoral role if your in the UK,  is a town hall registration to inform the municipal register where you live.
It is a kind of census record which allows the city to generate a list of local inhabitants for the government which reflects the amount of funding a town/city will get. It is mandatory to register (empadronarse) if you plans to live in Spain more than six months in a year.
What is Empadronamiento needed for?
You will be asked for your Empadronamiento  for  various reasons from region to region and from office to office. In some city's  you might be asked for the Empadronamiento for a certain administrative/booking procedure, while in an office a few hundred metres away, they don't ask you to produce it.
In general, it's always good to have it done and to carry the certificate with you for all official meetings/appointments.
Padrón/ Empadronamiento  may be required when:
Applying for a NIE (Occasionally in some offices)
Getting a health insurance, or buying into the Spanish Health system
Buying a car, Caravan or Van
Getting married or getting a civil partnership
In addition, the Certificate of Empadronamiento should be no more than 3 months old in order to be considered valid for the administrative tasks above.
Need a copy dated within the last 3 months? You can ask your local town hall  for a copy of the certificate with the current date for free.
How to get empadronamiento
You can register at the nearest town hall (ayuntamiento) in your town/city  from Monday – Friday 8:30 – 20:00
You will need to take the following Documents
Passport (original + copy)
NIE Number (if you already have it)
Bill that you paid the rent (if you don´t own the flat/house)
Proof of address:
if you own the property: original copy of the title deeds (escritura)
if you're renting a flat: original copy of the rental agreement in Spanish/Catalan (contract must be for more than 6 months, signed within the last 5 years)
if you rent a room:
written document from the owner of the flat stating you reside at the address + signed copy of his/her ID
– or –
autorización expresa – document signed by a person already registered (empadronado) at your address + signed copy of his/her ID
There is no Charge to get your empadronamiento . The registration should be renewed every 5 years for EU-citizens or every time you change your home address.
Find your Nearest Town Hall in Spain