Welcome to Spain! Have you just Landed in Moraira to start your new dream life in the sun? You have a job sorted and a new home to move into.
But have you Got your Spanish NIE Number yet?
Here at www.mynie.co.uk sorting your NIE Number is our number one job! All you have to do is fill in one form on our website, pay the £20 admin fee and we will sort the rest for you.
Ready to order your Spanish NIE Number? Use our NIE NUMBER BOOKING FORM WEBSITE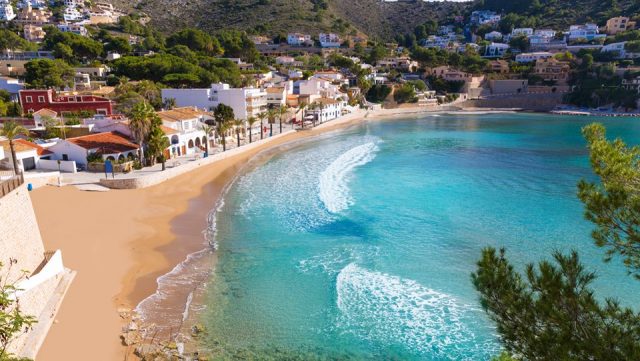 The my NIE Number team like to go out and meet our customers. This week we went to Visit Mark and Julia Hodson who moved to Spain from Newcastle and used the service at www.mynie.co.uk. We ask them about Moraira,  why they needed a Spanish NIE Number and how they found our service.
Mark and Julia Hodson moved to Moraira in January 2017 from there hometown of Newcastle in the North of England. Before they moved out they both had secured jobs, and organised to rent a flat in Moraira. But did they have there Spanish NIE Number?
We asked Julia and Mark some questions before moving on to explore Moraira.
Q: Did you get your Spanish NIE Number before you Moved to Moraira?
A: We found the MY NIE NUMBER website by searching Google. We really enjoyed the simple way the website was written, and the quick and easy booking form made it so simple. We took time to read through the NIE Number website and found it very informative.
After we put our details in Lisa Called us and gave us pour appointment date. She filled our all our NIE Number paperwork and emailed it over with a handy Guide.
Q: What was it like when you went to the police station to get your NIE Number?
A: We walked in and sat down until our number was called. Once we was called up it was a two minute job. We showed the police our passports and was told to come back in the afternoon. We went back around 1pm and our NIE Numbers were waiting for us. We was very happy with the service provided by MY NIE Number.
Q: Would you recommend www.mynie.co.uk to your friends to get their NIE Number in Spain?
A: Yes we certainly would. We feel we have been given really great service and we got our Spanish NIE Numbers in super quick time.
We left Julia and mark to their life in the sun and decided to go out with the NIE Number Spain team and explore Moraira.
Moraira is a old Spanish Fishing village located La Marina. Its roughly 80km from  Alicante and 110km North from Valencia.  The nearest main city is Barcelona which is 400km away.  Moraira has to be  one of the most unspoilt seaside resorts on the Costa Blanca, Spain,  with almost 8km of picturesque coastline and beached all framed by its famous mountains. A huge number of Ex-pats (British people living abroad) live in Moraira. Getting your Spanish NIE Number in Moraira is easy with our NIE Number website.
Beaches in Moraira
Moraira has a number of great beaches to enjoy all year round, they include the sandy torre cap dor, the ampulla which is  located near the old ruins of a castle and the rocky boulder beach called the L'Andragó.  All the beaches in Moraira have a good reputation and have won awards for cleanliness and water quality. Unfortunatly we didn't get much time to spend on the beach as we was busy getting peoples NIE Numbers for them. Sort of a bus mans holiday.
Things to do in Moraira if you don't have an NIE Number.
There's lots to do in Moraira even if you don't have your Spanish NIE Number yet. Check out our top places to visit below:
Have a night on the tiles and check out Moraira's night life
The best part about being in Moraira even without your Spanish NIE Number is  letting your hair down. Ok you may not be on holiday but whilst your waiting for your NIE appointment you might as well visit a nightclub or a disco.
If you are unfamiliar with the Spanish pubs and clubs scene look for a "discoteca" and not a "Club" which is actually the Spanish phrase to describe a brothel!
Moraira is a upmarket down but luckily not snobby.  You can have a  wild and hedonistic night in Moraira similar to the type of night you might have in Benidorm or Alicante.
How do I get a Spanish NIE Number?