Denia can be found north of Javea and is the most very northern part of the Costa Blanca in the Alicante Province. Locals say the sun  shines here 320 days a year making it the sunniest place in Spain.
If you have just moved to Denia or are thinking of buying a property here the first thing you will need is a NIE Number.
Here at www.mynie.co.uk we are specialist in getting peoples NIE Numbers sorted out in super quick time.  Complete just one simple NIE NUMBER BOOKING FORM on our website and we will do the rest of the work for you.
We will make the appointment at the Police station for you, complete all the NIE Number paperwork and email it over to you. All you will have to do is print it off and arrive at the police station at the time of your appointment and show your identification (passport).
Need help getting your NIE Number in Denia? Use our fast NIE Number booking form today and get your appointment within 24hrs.
Click here to get your NIE Number in Denia today
Visiting Denia
The staff at our NIE Number website like to go traveling around Spain, discover new places and meet some of our lovely customers. This week we took a trip to Denia to sample its history, nightlife and culture.
Getting your NIE Number in Denia
About Denia
Denia, situated on the Costa Blanca Spain, and famous for its multi coloured bars, restaurants and houses, boasts some of the areas best beaches with over 20kms worth of sandy shore to choose from. Awarded the European blue flag in 2018 for its water quality and clean sands, Denia's beaches are a tourist attraction in them self.
Denia's clear waters are ideal for people who like diving or snorkelling and the good news is to use most services in Denia you wont need a Spanish NIE Number.
Things to do in Denia
Our first stop of the day and no, you don't need your Spanish NIE Number for this was to Denia Castle. Denia's caste dates back to the 11th century, with reformation in the 15th century.  Sadly some of the castle was destroyed in the great Spanish war but its still a great place to visit and take in the views across Denia.
The castle is open daily but times cary depending on the seasons. The current cost of admission is £3 for adults and £2 for children and the elderly. The good news is you wont need a NIE Number to visit.
Museums in Denia
Next we moved onto the Denia Toy Museum, located ln the train station building on Calderon Street,  which is open every day, but only in the mornings. The Museum is tiny but showcases all the dolls the town was once famous for producing.
Most of the toys on display are 20th century handmade from wood and metal. They also have a unique selection of dolls made in Denia in the 1930's. You will need to set aside around an hour for your visit but its an hour well spent.
Restaurants and bars in Denia
Denia is World renowned for its brightly coloured restaurants, bars and cafes, you certainly wont be without choice here. You can find everything from a quick coffee, to tapas restaurants to high end dining in Denia.
The MY NIE Number team took lunch at  Restaurant No. 11 on the main street in old town. We can highly recommend it.
Parks and outdoor space in Denia 
In the afternoon we moved onto the Montgó Natural Park which can be found just outside Denia.  This park is famous for its wild birds, and protected Flora and fauna.  Keep your eyes open for its wild owls, badgers and rabbits and we recommend taking a camera to capture the beauty of your visit.
You don't need a NIE Number to visit the bars and restaurants in Denia, Spain.
Weather in Denia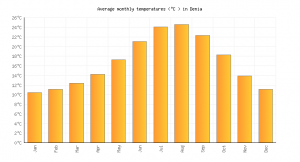 In Denia, the summers are warm, muggy, dry, and mostly clear and the winters are long, cool, windy, and partly cloudy. Over the course of the year, the temperature typically varies from 48°F to 82°F and is rarely below 41°F or above 87°F.
The MY Nie Number team left Denia with a smile on our Faces. We will certainly be returning soon!
What some of our customers in Denia say about our NIE Number service.
Jon and Brad Jackson are brothers who moved to Denia in 2017. They Said: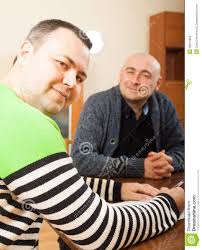 'We really enjoyed the experience of getting oujr Spanish NIE Numbers from MY NIE number website. It was fast and simple and made life easy. Thanks a lot to the MY NIE Number team!'
Lisa and Steven Brickenhead also moved to Denia in 2017 and needed their Spanish NIE Number. They Say:
'Using the NIE Number website was easy, fast and most of all cheap compared to other services. We put our details into the form late at night but by midday the next day we had our appointment at the Police Station and we was all set ready to go for our new life in sunny Spain. We highly recommend it!'
Links
How to get a NIE Number in Malaga
How to get a NIE Number in Benidorm
How to get a NIE Number in Murcia