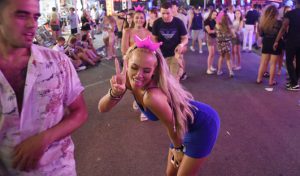 Have you just Moved to Magaluf? Do you need a NIE Number to buy a Property  or work in a Magaluf Bar? One of the first things you will need is a Spanish NIE Number. Getting your NIE Number in Magaluf is easy using our discounted NIE Number service.
Here at MY NIE SPAIN getting your NIE Number Fast is our job!  It takes less than 2 minutes to fill out our easy English NIE Number form. Then just sit back, put your feet up and let us do the work. To get a NIE Number in Magaluf you will need a Cita Privia Appointment which we will book for you. You will also need two completed forms (ex-15 & ex18 NIE NUMBER forms)
Once you have sent your details via our secure booking form your case is handed to one of our NIE Number experts who within a couple of hours will have your Magaluf NIE Number appointment booked, and will send you over your Magaluf NIE NUMBER forms.
Click here to book your NIE Number appointment in Magaluf Today!
Here at MY NIE Number Spain we like to go traveling around, Visit some of the places our customers want their NIE Numbers in, and check out the nightlife.  This weekend we visited Magaluf and we can now give you some top tips.
Magaluf NIE Number information
Magaluf, located 186 miles away from Benidorm, is a purpose built resort made up of apartment blocks, hotels and the leisure zones is situated in the Calvia region on the Balearic island of Mallorca along with its neighbouring resort Palma Nova. The good news is you don't need a Spanish NIE Number to just visit Magaluf as a tourist. Not for the faint hearted in peak tourist season Magaluf is one big party resort.  Out of season you will find Magaluf is popular with Family holiday makers and thing seem somewhat quitter.
There are great amenities available in Magaluf  such as supermarkets, souvenir shops, etc. The nearest market is in Andratx and for the best shopping facilities then head to the capital Palma, which has excellent shopping opportunities.  You don't need a NIE Number to take part in any leisure activities in Magaluf.
There are a good selection of leisure pursuits in Magaluf such as golf, crazy golf, tennis and go-karting.
Beaches In Magaluf (no NIE Number required)
Magaluf beach, a strip of fine, white sand, gently shelving down to the calm seas is a wonderful place to spend your long sunny days here.  If your looking for something a little quitter Palma Nova beach is generally less crowded in the high season. There are numerous water sports facilities, showers and restaurants, plus lots of other leisure activities for all the family, including glass bottom boat trips, snorkelling, kite surfing and more. Don't worry. You wont need your Spanish NIE Number to take part in any of these activities.
Magaluf nightlife, pubs, clubs and dance floors
When the sun goes down Magaluf comes to life. BCM Planet Dance is the biggest nightclub in Magaluf and is a must for the ones who are looking for great clubbing experience. Also there is a great option for the holidaymakers that with a Magaluf Club Pass (MCP), you may enter to five of the other top clubs including Banana's Disco, Boomerang Night Club, Tokio Joe's, Carwash and Honeys Lap Dance. You don't need a Spanish NIE Number to hit the nightlife in Magaluf but you might want to line your stomach with a good meal before hitting the alcohol soaked bars.
Eating out in Magaulf no NIE Number required.
Worry not. you wont be asked for your Spanish NIE Number eating in resturants in Magaluf. Pizza Express, McDonalds, fish and chips, KFC, Pizza Express, dining out in Magaluf is like a home from home. There are of course more traditional options, but fast food is high on the agenda for those wanting to eat and then party.
Weather in Magaluf
You wont need your Magaluf NIE Number to enjoy the amazing weather. The mild climate offers an average temperature of 30ºC in summer and 14ºC in winter. Around 300 sunny days a year light up Magaluf and the sunny coastline of Calvia. Click here to check out the Weather in Magaluf
More NIE Number Information:
Hoe to get a NIE Number in Marbella