Have you just moved to Altea, on the Costa Blanca Spain? Walked around the old town historic quarter and checked out the seafront bars? But, do you have your Spanish NIE Number yet?
What is an Altea NIE Number?
Your Altea NIE Number will start with a letter, followed by seven numbers and another letter in the end (Example: B – 5456543 – E). Your Altea NIE number is unique to you and it is neither transferable nor does it expire. If you live in Altea we will book you into Benidorm Police station for your appointment as its not currently possible to do in Altea.
What will my Altea NIE Number look like?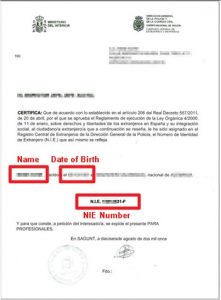 Your NIE Number will be printed on a A4 certificate and will be issued to you by the police station you visit, normally the same day.
Why do I need a NIE Number in Altea
You will need your Altea NIE Number to:
Buy our rent a property
Open a bank account
work in Altea
Connect to the internet or get a telephone contract.
Buy land
Start a company
How long will I take to get a NIE Number in Altea?
Generally there is not a long wait in the Altea region. We can book you into any of the Alicante Province police stations but generally it will be Denia or Benidorm
How can I get a NIE Number in Altea?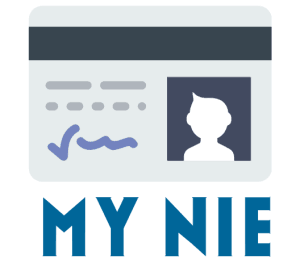 Are you ready to apply for your NIE Number in Altea? Click here to visit our home page and order your NIE Number today. 
About Altea
MY NIE checked out the best places in Altea and what there is to do. Check out our guide below.
You don't need your Spanish NIE Number to enjoy a day out in one of the most beautiful cities along the Costa Blanca  Altea. Altea has about 15000 inhabitants.
Where is Altea?
Altea is located about 15km north of the Benidorm area and just south of the beautiful town of  Calpe. Altea is one of the view villages which maintained most of the former fisherman's village houses of the past.
Altea is Famed for its church, the Nuestra Senora del Consuelo or Virgen de Consuelo in the old town, famed for its blue domed roof, its open of the last places along the Costa Blanca coastline that lets you see into Spain's Past.  Altea is spit into two parts, the new town and the old town divided by the unattractive N-332 passing through.
Different parts of Altea
On the sea side you have small bars and cafes, ice cream shops and a fantastic new beach. In this area you will also find the Altea Harbour. On the north of the road you have the quant old quarters pointing up to the church on the hill. A visit to Altea without a visit to the old town seems hardly worth while.
Altea sea front
Altea's sea offers an incomparable setting for the practice of water sports, both on its surface and sea beds. Protected by the Serra Galada Natural park, it provides various snorkelling and diving routes. The shallow seabed's are easily discovered, and although they aren't usually paid much attention, they offer a great colourful sea full of numerous harmless fish species which roams the Altea waters.
The good news is you don't need a Spanish NIE number to enjoy Altea.
With just a diving mask, fins and a snorkel tube, you can witness the colourful spectacle of life and experience the feel of the Altea waters.  You don't have to be an athlete or be exceptionally fit, and there is no real age limit.  You don't even have to be a good swimmer, a swim vest can help you float tirelessly on the surface and make safe water excursions.
Sun block is a must in Altea, as time fly's by when absorbed in such beautiful surrounding, and permits a longer visit to enjoy the contemplation of the precious natural heritage of  Altea's sea beds.
Still thinking of moving to Altea? Use our easy booking form to get your Spanish NIE Number today!
Internal links
How to get a NIE Number in Malaga
Howe to get a NIE Number in Benidorm
How to get a NIE Number in Valencia