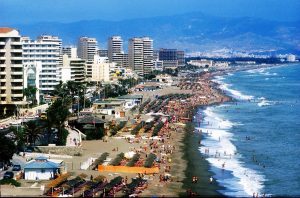 Have you just moved to Fuengirola ? Perhaps your planning on opening a café/bar? Or, maybe you already have a job offer?
Here at MY NIE NUMBER SPAIN getting your NIE Number in Fuengirola is easy. For the small fee of just £20 we will fill out all your NIE Number Forms, and book your appointment at the Police station in Fuegrirola. All you need to do is print off the documents we send you and hand them in at the Police station on the day of your NIE Number appointment.
Click here to visit our NIE Number home page or use our easy English Language booking form to Book your NIE Number appointment in English today!
More Information about Fuegrirola in Spain and getting your NIE Number
Just 25km from Malaga Airport you will find the town of Fuengirola . Fuengirola is one of the top destinations for Holidays on the Costa del Sol. The town is easily accessible by road, rail or bus so it's not difficult to see why this buzzing cosmopolitan town on the Mediterranean is the number one choice for so many.
Fuengirola was in its previous life just a tiny fishing village. Fuengirola these days have become a vibrant metropolis with character.  Many up-market tapa's bars, good cafes and restaurants have opened, interspersed with chic boutiques and other interesting shops, as well as amazing beaches which makes it the perfect holiday destination. The good news, you wont need a NIE Number to Visit Fuengirola  .
The main square In Fuengirola  is called the Plaza de la Constitución.  It has been re-designed over the years but still retains its unique Character. The Square looks pretty, especially at Christmas time, when it is decorated with very attractive lights and ornaments.
It  also looks great during the Fuengirola summer feria, when the whole town takes part in the annual street celebrations. A walk down the narrow, pedestrian streets leading off the main square is a voyage of discovery for the many visitors, who come across some of the hidden secrets and delightful corners of this friendly, Andalucian town.
Fuengirola's main attractions is, of course, its wonderful seven kilometres (five miles) of sandy beaches, stretching from the Sohail Castle to the west and Torreblanca to the east.  Fuengirola has all the amenities and comforts you need but in a beautiful Mediterranean setting. Whether you love shopping, or looking for a good gym or municipal sports centres.
Water sports are strongly featured in this coastal resort. Where better to get to grips with speed boats, jet skis, parasailing than at the cool Marina. Do I Need a NIE Number to take part in water sports in Fuengirola? No you wont need a NIE Number for this.
If perhaps you need a more personal hand finding things then you may want to try a Viator guided tour on our excursions page, which always prove to be enjoyable. Buses in Fuengirola run quite regularly to places along the coast such as Torremolinos and Marbella all the way to Estepona and Algeciras. Hire a car is best way to get around as public transport is limited. Consult our general
Book your NIE Number appointment in Fuengirola today!