Have you Just moved to Barcelona? Do you need a Barcelona NIE Number for work/studies or to buy/rent a property?
Here at MY NIE getting you your NIE Number is our number one aim.
Click here to get your NIE Number today
What is a Barcelona NIE Number?
Your Barcelona NIE Number (Número de Identificación de Extranjero) is a Spanish tax identification number given by the Spanish Police to any foreigner. You will need it to work, buy property and open a bank account in the Barcelona region of Spain.
What does a Barcelona NIE Number look like?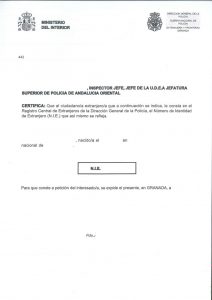 Your Barcelona NIE number will normally start with a letter, followed by seven numbers and another letter in the end (This is how your NIE Number might look: B – 4543432 – Z).
Your NIE number is unique to you and it is neither transferable nor does it expire. Your NIE Number will be issued on a white A4 piece of paper similar to the photo above.
About Barcelona 
Will the weather be nice in Barcelona? Will people understand what I'm saying if I don't speak spanish? Take a look at the MY NIE practical and useful guide to Barcelona below and you'll find the answer to  the most commonly asked questions before you even get on the plane.
Catalonia and Barcelona was one of the first tourist destination of Spain, it has everything to please most people: with a long history among the oldest in Europe, a capital, Barcelona, which never seems to sleeps and an inland full of charm and Charisma not to forget the beaches in La Costa Brava. A huge variety of artistic treasures, the Romanesque, churches and all the greatest names in art and architecture , Dali, Gaudi, Miro, Picasso and more….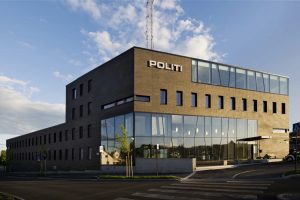 Barcelona sits between the Mediterranean sea and the mountains of inland Spain andhas found its self a formidable reputation: a foot in the traditional things and on the other hand the avant-garde. Barcelona is known of being the most cosmopolitan, modern and avant-garde city in Spain and it has renewed for the Olympic Games hosted in 1992. the good news is you don't need a NIE Number to visit Barcelona.
History of Barcelona guide from MY NIE
The first humans settled in Barcelona in early Neolithic times. The town itself was founded by Romans who set up a town called Barcino at the end of the 1st century. The town had around 800 inhabitants and was walled in by a defensive stone mound, which you can still see today in the old town of Barcelona.
For hundreds of years Barcelona was under a majority Muslim rule, and following the Christian war, it became a county of the Carolingian Empire and one of the main residences of the court of the Crown of Aragon.
The successful medieval period made BBarcelona's position as the monetary and political centre of the Western world. The Old Quarter shows the splendour enjoyed by the city and its residents from the 12th to the 14th centuries.
From the 14th to 17th centuries Barcelona was in a period of decline, while it struggled to maintain its wealth and political independence from the rest of Spain. The struggle ended in 1679, when Barcelona fell to the Bourbon troops and Catalonia's and Catalans' rights and privileges were suppressed.
A time of cultural recovery began in the 19th century with the arrival of the development of the clothes industry. During this period, which was known as the Renaixença, Catalan regained prominence as a literary language. This was a good period for Barcelona and you would not have needed a NIE number in these times.
The 20th century ushered in widespread urban renewal (and the introduction of the NIE Number) throughout Barcelona, culminating in its landmark Eixample district  which shows some of Barcelona's distinctive Catalan art-nouveau, or modernista  buildings and Churches.
The most famous is the Catalan Antoni Gaudí, the most eminent architects, designed buildings such as the Casa Milà, known as La Pedrera, the Catalan for stone quarry, the Casa Batlló and the Sagrada Família church, which are now world-famous landmarks visited by thousands of tourists each year..
The gains made during this era were restricted during the Civil War in 1936 and the dictatorship. With the reinstatement of democracy in 1978, the Barcelonasociety regained its economic strength and the Catalan language was restored to its former glory. The city's hosting of the 1992 Olympic Games gave fresh importance to Barcelona's potential and confirmed its status as a major city.
In 2004, the Forum of Cultures took back industrial areas to convert them into residential towns. An example of the renewed vigour with which Barcelona is looking towards the 21st century
Language in Barcelona. Do I need to speak Spanish to get a NIE number?
Catalonia has its very own language called Catalan. Most of the inhabitants who live in Barcelona are bilingual and speak Catalan and Spanish, which is also an official world recognised language. Some street names and most road and transport signs are in Catalan in Barcelona.
Lots of restaurants, especially those in the main city centre, have menus in several languages. But if there's something you don't understand, don't be afraid to ask people, many will be happy to help. Many people from Barcelona also speak English and French and sometimes German.
Barcelona Customs and Traditions
In Barcelona, and throughout Catalonia region, there are two official languages: Catalan, the language of the Catalans, and Spanish, the official language of Spain. As in most European countries like the UK and also in Catalonia, GMT is the time system used in Barcelona.
The clocks in Barcelona are one hour ahead of GMT in winter and two in summer and are changed twice a year, going forward one hour in winter and back an hour in summer.
Barcelona is in the Eurozone and the euro coin  is its official currency. Foreign currency can be exchanged at banks, or 'Caixes' (the opening hours are Monday to Friday, 8.30am to 2pm. Thursday afternoons, 4.30pm to 7.45pm, except June to September) and banks (Monday to Friday, 8.30am to 2pm and Saturday, 8.30am to 1pm, except summer).
The Bureaux de change also open every day in Barcelona city town centre, and at the railway stations and the Estació del Nord bus station and at the Airport, where they have much longer opening times.

The working day in Barcelona usually begins at 8am or 9am in the morning and ends around 6pm or 7pm in the evening, with a one- or two-hour break for lunch at around 2pm. This is the daily life and routine that befits the residents reputation in the rest of Spain as a hard-working and thrifty people.
Lunch and dinner are eaten later than in the rest of Europe. Most restaurants open from 1pm to 4pm, then from 8pm until 11pm. Tipping isn't obligatory, but people usually leave 5% if they are happy with the service.
Shops have long opening hours, from 10am to 2pm and from 4.30 to 8 or 8.30pm. In Barcelona city centre, most shops don't close at lunchtime and large shopping centres stay open until 10pm in summer season.
With regard to prices, Barcelona features a huge range of different accommodation, shops and services to suit all budgets.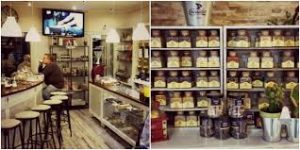 For Example here are some approximate prices in Barcelona: a single public transport ticket costs 2.15€, an coffee between 1 and 1.50€; a lunchtime set menu can cost between 8 and 15€, a cinema ticket 10€; a sandwich 3 to 4€, and a newspaper about 1.30€. Smoking is prohibited in all bars and restaurants in Barcelona like the rest of Europe and the UK.  You do not need a NIE number to be able to buy cigarettes in spain.
Sustainability in Barcelona
Barcelona loves all aspect of sustainability. They were the first city in the world to be awarded Biosphere certification. From environmental and social issues, from mobility to a commitment to sustainable accommodation, when you visit you'll find pioneering initiatives including alternative waste management, prioritization of bikes and pedestrians, the preservation of parks and beaches, and a commitment to Smart technologies.
Accessibility in Barcelona
Barcelona is a accessible city and offers every facility so that disabled people can enjoy it and visit the iconic sights. Museums adapted for the blind, barrier-free hotels, accessible beaches and parks, and sign-language tours… are some of the options you'll find on the website Barcelona Access.
Getting around in Barcelona
Barcelonas transport system is making strides in accessibility: acoustic and visual signals at the turnstiles, the location of vending machines by remote control, ticket machines with information in Braille and voice-activated browsing system s, and ramps and lifts providing step-free access are just some of the features available on the metro, buses, railway, trams and the Barcelona Bus Turístic.
At the same time, Barecolna are furthering there commitment to non-polluting and sustainable energies with hybrid taxis and buses.

The Barcelona Bus Tour
Here at MY NIE we think theres nothing better than the hop-on hop-off bus tour to discover a Barcelona! It is a cheap way to make a first connection with its main tourist attractions, without the stress, at your own pace. Barcelona bus tour offers three different and unique routes where no monument or sight seeing event is forgotten.
How does the  bus tour Barcelona hop on hop off work?
MY NIE Barcelona took the tour and have these tips.
The open bus runs through the city on defined routes. These routes stop in front of the main monument in the city. Your ticket allows you to hop on and hop off as many times as you wish throughout the day or for two days if you choose that fare.
100% mobile and skip the line: If you buy your ticket on the  website, it will be mobile, i.e. either printable, to keep on your phone and present to the bus driver. No more waiting lines to get your ticket at a tourist office in the city!
You will receive your ticket by email immediately after purchase.
Your ticket is valid all year round, it will only be activated when it is scanned on the bus. From then on it will be valid for the whole day or for two consecutive days according to your purchase.
The tour includes a free audio guide with headphones : The audio guide included in the ticket price is currently available in 16 different languages (English, Catalan, Spanish, French, German, Portuguese, Chinese, Japanese, Italian, Russian, Norwegian, Swedish, Turkish, Dutch).
A city map is available on board.
Free Wifi on board!
Enjoy the presence of an official tour guide on board the bus, he will answer all your questions.
Finally, thanks to the open top floor of the double decker, take all the pictures you want of Barcelona!
Ten Facts about Barcelona your probably didn't know about….
1. Its founding origins are still in dispute
There are two Spanish legends concerning the establishment of Barcelona. One legend says that it was founded by Hercules, 400 years before the building of Rome. But, according to the other legend, the city was founded in the 3rd century BC by the Carthaginian Hamilcar Barca, father of Hannibal. He named the city Barcino after his family, the Barca family of Carthage. Which one do you believe?
2. Barcelona is considered the "best beach city" in the world
by National Geographic, but their beaches weren't used for leisure until 1992
Today there are seven beaches with a total of 4.5 km of coastline, but before 1992, Barcelona's seaside was completely run over by industries, and there existed no beach for the use of the city's populace and tourism. It wasn't until the city's redevelopment for the 1992 Olympic Games that the city moved their industries and converted the seaside area into an exemplary leisure area for locals and tourist alike; including the improvement of two beaches and the creation of five new beaches.
3. Barcelona is to thank for World Book Day. Thank you from MY NIE Barcelona!
Diada de San Jordi (St. Georges Day) is one of the biggest, most widely celebrated festival days in Barcelona which takes place on April 23rd and is a cOn this day, it is a tradition to present your near and dear ones with roses and books. Inspired by this custom, UNESCO declared the day as the International Day of Books.elebration of love and literacy.
4. La Rambla is not just one street… it's five streets. MY NIE Barcelona went exploring.
La Rambla is probably the most famous street in Barcelona, but in reality, it consists of 5 boulevards –or ramblas– joined to make one long promenade. It starts from Placa Catalunya and ends at the Colombus statue by the waterfront. For this reason, this 2-kilometer long boulevard is also commonly known in plural as Las Ramblas.Thousands of people stroll on Las Ramblas every day and night, where they watch the performing street artists, shop, or sit for a nice meal or coffee.
Las Ramblas is the major center of activities in the city and is undoubtedly the most famous promenade of Barcelona, and probably in all Spain.
5. It is Europe's largest metropolis on the Mediterranean coast
Also, Barcelona is the second largest city in Spain, after Madrid, and the 11th most populous urban area in the European Union.
6. It is the first city to win a RIBA Royal Gold Medal for its architecture
The Royal Gold Medal for architecture is awarded annually since 1848, by the Royal Institute of British Architects on behalf of the British monarch, in recognition of an individual's or group's substantial contribution to international architecture. In 1999, Barcelona became the first and only city, to this date, to receive this honor – instead of an individual architect. And it goes without saying that it is well deserved.
7. Fiestas de la Mercè is the most important festival in Barcelona
The main event of La Mercè is held on the 24th of September each year, and the Festival is held in honor of the Cities Patron Saint and Protector, The Virgin de La Merce. It is an official city holiday since the year 1871.
8. Flamenco is not well known in Barcelona
Even though Spain is well-known for its flamenco dancing, this popular dance is not traditional or well known/practiced in Barcelona or Cataluña. Catalans prefer the more contemporary rock-n-roll scene.
9. The hallmark grid pattern of the city came from a revolutionary utopian master plan
Most of the city of Barcelona was designed by Ildefons Cerdà i Sunyer for the 19th-century extension of the city. The plan, called Eixample, intended to create the perfect environment for Barcelona's fast-expanding population. He considered traffic and transport along with sunlight and ventilation for the design of his characteristic octagonal blocks, where the streets broaden at every intersection making for greater visibility, better ventilation, and more significant open spaces. In the end, the plan wasn't built following all the utopian characteristics he envisioned in his plan.
10. Gaudí was not the original architect of Sagrada Familia
Even though La Sagrada Família is one of the major works of Antoní Gaudí, he was not the first architect to be appointed to work on it. Architect Francisco de Paula del Villar was the first one commissioned to design the church. Construction of the crypt of the church was begun March 19, 1882, following Villar's design. It wasn't until 1883 when Antoní Gaudí started working on the project. On March 18, 1883, Villar retired from the project, and Gaudí assumed responsibility for its design, which he changed radically.
HOW TO GET YOUR NIE NUMBER IN BARCELONA
Getting your NIE Number 'Cita Previa' appointment and NIE Number paperwork in Barcelona is easy with our service.
Use our easy English NIE NUMBER BOOKING FORM, and our staff will book your NIE Number appointment in Barcelona, complete your NIE Number forms and email over for you to print.
All you are required to do is attend the police station on the date and time of your appointment, hand in your documents and show your passport.
Links
How to get a NIE Number in Malaga
How to get a NIE Number in Murcia