Have you recently moved to Lanzarote and now discovered you need a Spanish NIE Number to be able to work, or buy a property?  Getting your NIE Number in Lanzarote Fast is Our Job.
Using our friendly NIE Number service we will book your CITA PREVIA appointment in Lanzarote, and complete your NIE NUMBER FORMS. Your only job is to arrive at the Police station at the time and date we provide you to hand in your NIE Number Paperwork and show your Valid Passport.
How do I Get my NIE Number in Lanzarote?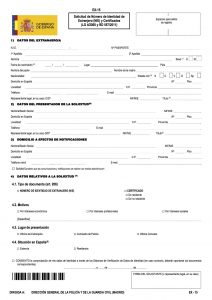 Getting a NIE Number Fast in Lanzarote easy with our simple online NIE NUMBER BOOKING FORM. We will complete your NIE Number forms (EX-15/790) and send to you in email format to print off.
All you need to do is turn up at the Police station in Lanzarote at the time and date we give you to collect your NIE Number.
Click here to book your NIE Number appointment today
More information about Lanzarote
Lanzarote, the most eastern of the Canary Islands in the Atlantic Ocean is about 130 km off the African coast and 1,100 km from the Iberian Peninsula. Covering 736.9 km2 and it stands as the fourth largest of the Canary Islands.
The first recorded name for the island, given by Angelino Dulcert, was Insula de Lanzarotus Marocelus after the Genoese navigator Lance Lotto Malocello from which the modern name is derived. The island's name in the native language was Titerro(y) gatra, which can mean "the red mountains"
Lanzarote is 12 km northeast of Fuerteventura and just over 1.2 km from Graciosa. The island is 59 km from north to south and 24 km from west to east.
Lanzarote has 213 km of coastline, of which 10 km is sand, 16.5 km is beach, and the rest is rocky. Its dramatic landscape includes the mountain ranges of Famara (671 m) in the north and Ajaches (608 m) to the south. South of Famara is the El Jable desert, which separates Famara and Montañas del Fuego.
The highest peak in Lanzarote is Peñas del cache rising to 670 metres above sea level. "Tunnel of Atlantis" is the largest submerged volcanic tunnel in the world.
In 2010, a total of 139,000 people lived on the island of Lanzarote, which is an increase of 9.4% from 2006 (127,000). The island's government (Cabildo Insular) is based in the capital, Arrecife, which has a population of 59,000.
The majority of residents (73.9%) are Spanish, with a sizable number of residents from other European nations, especially the United Kingdom (4.0%), Germans (2.6%) and Irish (2.5%). Other populous groups include immigrants from Colombia, Morocco, Ecuador, West Africa, China and India, which account for a large part of the remaining 15.6% of the population.
There are 500 different kinds of plants, of which 17 species are endemic. These plants have adapted to the relative scarcity of water, the same as succulents. Plants include Canary Island Date Palm (Phoenix canariensis), Canary Island Pine (Pinus canariensis), ferns and wild olive trees (Olea europaea). Laurissilva trees that once covered the highest parts of the Risco de Famara and are rarely found today. After the winter rains, the vegetation turns to a colourful bloom between February and March.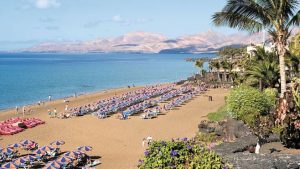 Lanzarote has 35 types of animal species, including birds and reptiles. Some interesting endemic creatures are Gallotia lizards, and the blind Munidopsis polymorpha crabs found in the Jameos del Agua lagoon, which was formed by a volcanic eruption. It is home to one of two surviving populations of threatened Canarian Egyptian Vultures.
The vineyards of La Geria (a subzone of Lanzarote's Denominación de Origen wine region), with their traditional farming methods, is a protected area. Some vines are planted in a 4-5 m wide hole that is 2-3 metres deep, with small stone walls surrounding each hole. This agricultural technique is designed to harvest rain and night dew and to protect the plants from the wind.
The vineyards are part of the World Heritage Site along with other places on the island. UNESCO Biosphere Lanzarote was designated as UNESCO Biosphere in 1993, not only because of its unique landscape, but also because of its commitment to preserve and maintain the wonderful natural environment.
Common NIE Number Questions and Answers
What to do if you have lost your NIE Number
How to get a NIE Number in Marbella
Getting a NIE Number on public holiday in Spain
Getting a Padron for NIE Number appointment