Have your lost your Spanish NIE Number in Spain? Need it to buy a car, rent a house or get connected to the internet or for work reasons?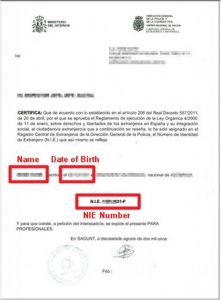 Unfortunately there is only one way to get a replacement copy of your Original NIE Number certificate and that is to unfortunately go through the whole process again from the start.
It maybe a bit easier at the police station if you have a photo or have your NIE Number written down somewhere.
To trace your lost Spanish NIE Number visit our book now page. Unfortunately although you have already given all these details to the Spanish Police before we will need all the details again. The reason for this is: If the police search their database and can not find you, it will be treated as a new application. To save time and not risk you being pushed to the back of the que its best to go with all the paperwork completed for a new application.
Once you have placed your order and sent your details via our easy English format NIE Number booking form one of our representatives will be in touch within 24hrs with your appointment date at the police station.
When you get to the police station the process will be the same as applying for a new NIE Number. You may not need it if the police manage to find your application on their system but we recommend taking two passport sized photos with you. You will also have to pay the government fee of (9.75) again at the bank.
Opening a bank account without a NIE Number
How do i get a Spanish NIE Number